Charleston's Farmers Market
Charleston Farmers Market  (April through early December) showcases the finest that Charleston's local artists, craftspeople, bakers, and, of course, farmers have to offer. From Meeting or King streets, enter this Marion Square market to find rows of local offering all of the season's fruit, vegetables, herbs, spices, and flowers.
After you've bagged any necessary groceries or fruits, it's time to find a food vendor and grab some quick and delicious brunch or lunch to eat in the park. It's difficult to choose a food vendor at Charleston Farmers Market; follow your nose and line up for whichever place smells the best—everything is excellent here. After a quick meal, browse the remaining market rows for artisan jewelry, goats milk soaps, paintings, and letterpress items. You'll be delighted and thrilled when you depart with the best collection of local memories. Farmers Market is one of the best in Charleston's Local Shopping.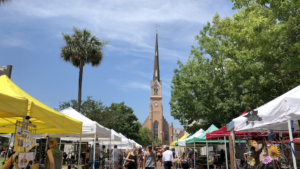 This market has more to offer than simply vegetables! Dozens of local merchants are on hand offering a variety of products, gifts, and other stuff.
This market provides more than just vegetables! Dozens of local merchants are on hand, selling a wide range of items, presents, and other trinkets.
Here are some of the best farmer's markets in Charleston, SC
Urban Farm at MUSC 
Island Farmers Market
Ronald McDonald House
Town of Sullivan's Island 
Farm of the Ambrose Family