The Next Big Thing in The Gin Joint Bar Charleston
 The Gin Joint Bar is widely regarded as a forerunner of the present artisan cocktail culture in Charleston and has been a fixture in the East Bay for many years. The Gin Joint bartenders are extremely experienced and proud of their trade, ready to mix up any combination or traditional cocktail upon customer request. Looking for a little bit of adventure with a little bit of ingredient guidance?
The Gin Joint's pre-set cocktail menu reflects the small alley venue's preference for locally sourced spirits, ingredients, and garnishes, and includes classics like the Phil Collins, Grand Budapest, and the top-shelf Arsenic and Old Lace. Expect to mix with cocktail fans of all ages at The Gin Joint, whether you're stopping in for a single drink or sticking for the evening.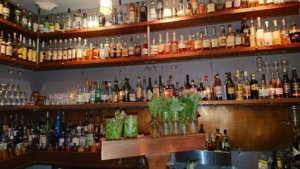 The Gin Joint is a perfect East Bay stop for any self-proclaimed cocktail connoisseurs or aspiring mixologists. Before traveling to your East Bay Street reservations, stop by The Gin Joint for a pre-dinner beverage and nibble.
The Gin Joint was one of the earliest handmade cocktail establishments in Charleston, and its menu changes seasonally. When this bar first opened in 2010, it outlawed vodka, and if customers aren't sure what to order, they may go with the "Bartender's Choice" and choose from a vast list of descriptors like "tart," "strong," and "fizzy" to describe the style of drink they want. Included in the list of Top Bars of Charleston.