The Vault & Haute Hanger Charleston, S.C.
The Vault & Haute Hanger at 307 King Street, ideally located in the heart of King Street's bustling retail center, offers an unrivaled shopping experience blend of family vintage-style varsity sports apparel on one side and stunning women's boutique printed dresses, jeans, shirts, and jewelry on the other.
The Vault sells vintage-style sportswear for the entire family, including shirts, jerseys, sweatshirts, caps, Flip flops, tees, and more with logos from your favorite MBA, MLB, NFL, NHL, and NCAA teams. The Vault also includes products from the College of Charleston, South Carolina, and Clemson, with all sports apparel available in season and all year. There are many fixtures, decorations, and genuine vintage pennants available, as well as dog leashes and collars in your favorite teams and styles! Meanwhile, Haute Hanger is a local favorite for gameday outfits, vividly colored shirts and skirts for nights out, and modern jewelry.
The Vault & Haute Hanger easily makes our 10 Best Shopping list due to its twin store offers (women's boutique and varsity sports shop). It is in Best of Local Shopping Charleston.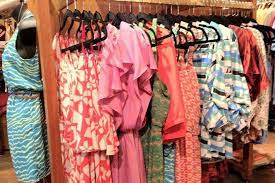 The Vault & Haute Hanger offers a dog and kid-friendly shopping experience, with complimentary dog treats and suckers!
They are now offering Sezzle, You can check this on their website.
No Interest
Order Shipped Immediately
Purchase Split in 4 Payments, Auto Drfted every two weeks.
Also offering free shipping on orders over $125.