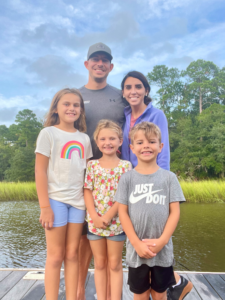 Meet Amber 
Meet Amber, the best Real Estate agent of Charleston. She makes the home buying process enjoyable. Client's are treated like family. With documents and information detailing all aspects of the sale. Client's can be confident that everything will be properly handled. They are well informed and often get a response within minutes. There is no sales tactic or pressure, only education and honest guidance. Amber is more than an agent, she is an ally.
Amber Dollarhite Buying Agent of Charleston
Purchasing a home is the biggest financial commitment you'll ever likely make. A new home embraces so many feelings such as achievement, the place where families make cherished memories everyday. Whether you are buying your very first home or third or forth, this is a decision that requires careful consideration and guidance. We have helped hundreds of families just like yours become proud homeowners and it has been an honor to be a part of such an amazing experience. We can honestly say there is no greater satisfaction than hearing a client say " I Love my new home."
So let's work together and define what home means to you.
Amber Dollarhite Selling Agent of Charleston
For most people a home is their largest single financial investment. When time comes to sell it, it's vitally important that you have an experienced and dedicated agent for your best interests. Amber's proven systems and commitment to creating exceptional real estate experiences have resulted in clients that return for service.
What makes a home sell?
How it's priced

How it shows

How it marketed
Deciding to sell your home is a big decision. Choose an agent you can trust to get results fast. You may think selling your home has to be stressful. But it doesn't have to be when you work with an agent who believes in constant communication and clearly defined expectations like myself. 
Let's get started. The next chapter awaits you.