Sullivan's Beach Island Charleston, S.C
Sullivan's Island, South Carolina, is a great area to rent a bike, go paddleboarding, or just relax. Sullivan's Island, like Folly Beach, is full of local businesses, restaurants, and pubs that are all just a short walk from the sea.
We propose a juicy burger from Poe's Tavern, one of the most unique venues on the island, for a fantastic lunch. It's named after the renowned author Edgar Allan Poe!
Fort Moultrie is merely a 5-minute drive from the main beach if you want to add some Charleston history to your beach excursion. You may explore the free museum before taking a picturesque trek across canyons and dunes to the fort itself. On Sullivan's, there's something for everyone! And it is suggested to be one of the best beaches in Charleston.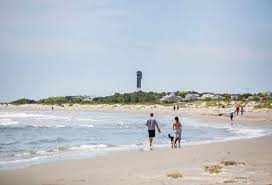 The beach on Sullivan's Island is peaceful and isolated, with no facilities. The beach is big and empty.
The island prefers to keep things natural and low-key, there are no public facilities or lifeguards on this beach, and swimming is prohibited on either side of the island due to dangerously strong currents. Because of the numerous sandbars on Sullivan's Island, the seas are frequently calm.