Charleston City Market
Charleston's City Market, formerly known as the Centre Market, was built to replace the city's Beef Market structure (on the location of  City Hall, 100 Broad Street), which burnt down in 1796.
The historic Charleston City Market is one of downtown Charleston's most popular shopping destinations. This market, always full of shoppers and tourists, is open 365 days a year and features local Charleston merchants, their distinctive items and crafts, as well as casual and fine dining takeaway meals.
Charleston's famed sweetgrass basket weavers may be spotted practicing their trade among the open-air kiosks of the Market. The Market was built between 1804 and 1830 and was initially utilized as a meat, vegetable, and fish market. In 2011, This City Market completed multimillion-dollar upgrades, including air conditioning and whirling fans to keep consumers comfortable throughout the warmer months.
The Charleston City Market comes top on our list of shopping places in Charleston due to its characteristically Charleston style, historic structure, and variety of local things.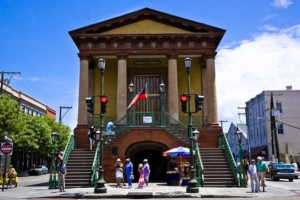 These are the top things to do near City Market:
The following are the most popular sorts of attractions near Charleston City Market:
Tours by Boat
Gift and Specialty Stores
Charters and Tours for Fishing
Tours by Foot
Tours for Individuals