HUSK CHARLESTON, S.C.
Husk, one of the Southeast's most popular restaurants, is tucked away a quiet stretch of Queen Street downtown, only a few steps from the harbor. The simple home-style structure is a great setting for the friendly and inviting services, as well as the traditional dishes provided within. You won't be able to make a bad menu choice, from brunch to lunch, supper, and dessert. Menus vary twice daily based on what's in season and locally accessible. So, before your mealtime visit, make sure to check the HUSK website.
A Skillet of Cornbread with Bacon is a must-order and a true reflection of Husk's ability to craft Simple Southern food. When shrimp and grits are on the daily menu, it's a golden opportunity, with fried chicken or catfish dishes. If possible, reserve a porch patio table! This is one of the Best Restaurants in Charleston, S.C.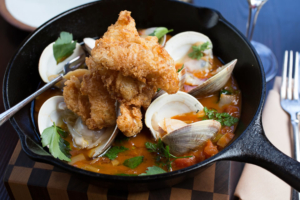 Husk Recommended for one of the best Southern Restaurants
This Restaurant tops our best Southern Restaurant Lists for head chef Sean Brock's dedication to local heirloom ingredients and historical sounds.
Be sure to make advance reservations for this Southern hotspot! A table at Husk has been in high demand since their opening.