Facts That Nobody Told You About Proof Bar Charleston
 Proof's bartenders take cocktails and cocktail service very seriously, as seen by a traditional absinthe service and classic cocktails such the Gin & Tonic, Clover Club, Pink Rabbit, Old Fashioned, Manhattan, and others. You'll also find some new twists on old favorites, as well as nightly specials concocted by the bartenders.
This quiet Upper King cocktail bar is excellent for a romantic night or a gathering of close friends, with lower lighting and hightop tables, as well as the odd live music event. While the selection is far more restricted than its neighbor, Closed For Business, there are a few great options: Bellhaven Black Scottish Stout, Bells 2 Hearted IPA, and Jever Pilsner.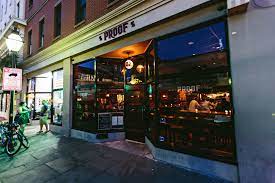 This Bar is appropriate for almost every situation—or lack thereof. Come for a celebration, a date, or just because. The proof will assist you in treating yourself. Arrive a little early to secure a table for two at the bar or a countertop with a view of the street. People watching on King Street and beautifully made cocktails go well together. Also Top Bar of Charleston.
Proof, a candlelit cocktail bar, serves unique cocktails such as the Pink Rabbit (Ancho Reyes, Hendrick's gin, house-made strawberry "Quick," and mole biters) and the Knuckle Ball (Old Grand-Dad, cola reduction, orange bitters, and pickled boiled peanuts). Owner Craig Nelson and the other bartenders are always ready with a recommendation. Proof is a terrific place to meet friends or sit alone in the window and observe the late-night crowds on King Street.